I had about a week to get back from Ontario to BC or more precisely to Whistler closure to Vancouver on the West coast of British Columbia. Instead of taking to southern route along HWY1 I wanted to travel all the way on the Yellowhead Highway which lies a little bit further north. Even though I would have had enough time to stop and explore I didn't really find anything to stop. Actually it's been hard enough to find a rest area to stop and make a break at. There were sections when I drove for 10 hours straight without even passing a pull out. In the end I pretty much drove through all the way to Jasper in the Rocky mountains. Finally back in the mountains I wanted to spend a couple days exploring and checked in at a real campground. 
To get my legs working again after such a long drive I decided to get up to Maligne Lake in the evening. After visiting the Canyon in winter already I was pretty excited about exploring the lake further up the road this time. Going late in the evening wasn't such a bad idea either as I managed to avoid the crowds. The only down part was that there wasn't much to do other than taking beautiful pictures... My plan was to go hiking and exploring a bit more on the following day...
The next day started with pouring raing though. There was no way of any enjoyable hiking. So I got in back in my truck and continued on my way to Barriere. It felt like I just drove this road yesterday, coming from Aurum Lodge and visiting Raven Ridge farms for the first time. It's hard to believe that 4 month had already passed since then, the snow storm had turned into pouring rain, and my Canada traveling dreams got turned upside down several times.
To my surprise I found a scruffy looking Grizzly bear just outside a Gas station in Blue River. I sure chose not to fuel up here...
Driving up the Barriere Lakes Road to farm felt like coming home. The closer I came the more I realized how much I had missed it even though I was just gone for a month. 
Dan and Angela were on a little camping trip so I spend the first evening with thier sun and of course not without greeting all my little sheepish friends. They had grown SO much! Unbelievable, in just a month...
... and the garden we have planted earlier this year had turned into a jungle! Surprisingly satisfying...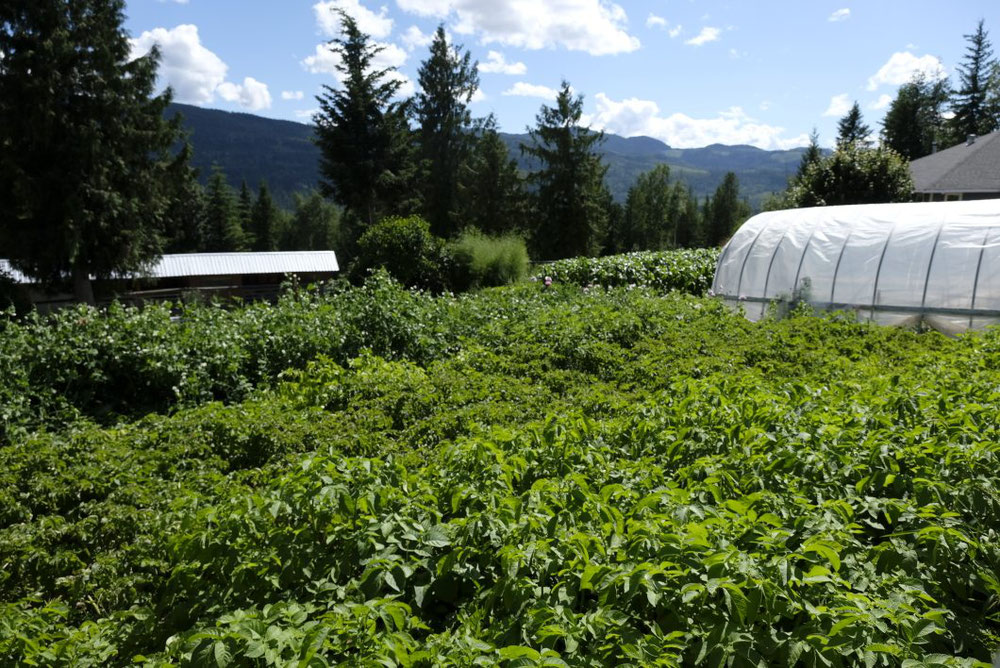 As much as I enyojed beeing 'back home' I had to continue to Whistler after just 2 nights. The shortest and defenitly more scenic drive lead me along the Duffey Lake road and Sea to Sky highway. It is known as one of the world's most scenic drives (as pretty much every second mountain road in Canada as it seems...). And it is - no kidding - spectacular! Coming from the desterty mountains arround Lilloet into the lush green alpine near Pemberton and Whistler (my destination) and then further on to the Howe Sound (which I was supposed to discover a few weekends later). 
In Whistler I catched up with Tracey's son whom I wanted to work for/with at a Landscaping company for the rest of the season. 
To show me a bit arround and introduce me to the heat surrou songs of Whistler Nevan took me on a hike up to Rainbow Lake the following day. It was a fairly short but steep hike up one of the nearby mountains with a beautiful lake awaiting us at the end of it. Beautiful enough to make me fall in love with the mountains straight away.