The week in Barriere passed by super quick and here I was, back on the road again. Up into an adventure I couldn't even have dreamed of before. Nuk Tessli - a Wilderness hiking lodge in the Chilcotin on the boundary of Tweedsmuir Provincial park between Williams Lake and Bella Coola. I tried getting in contact with them when I was in Ontario already, but as all the Whistler stuff happened so suddenly I had to drop that idea again. Now, finally it worked out, as if it was meant to be...
But getting here was not as easy as anticipated. My floatplane from Nimpo lake was supposed to leave on Wednesday the 2nd of September at 10 a.m. As I wanted to make sure that I don't miss the plain I left Barriere two days earlier and wanted to camp for two nights. First Stop Williams lake. The drive coming up through Little Fort - 100 mile house - Williams lake was quite nice, nothing too spectacular though. As I wasn't quite sure whether or not I should pick up anything from the store there I decided to stay the night just north of town on a hidden lakefront Campground. This way I could once again check in the morning for any messages as I knew I wouldn't have any cell service from here on. 
As it turned out I hadn't had to pick up anything so the next morning I just stopped in town to fill up on my own supplies. Thank goodness I stayed close to town, and thank goodness I stopped at that particular shop at that particular time. I was just about to leave for the long and lonely drive along hwy 20 ( a 400km long, dead end road without any cell service at all and just a handful of people living there...) when a guy nocked on my window telling me to better not leave anywhere. My truck leaked gas... And not just a bit, a lot! It looked like I had an ocean of gas developing right below my tank. I wasn't sure whether I should be relived that he noticed me just in time or whether I should panick as I didn't want my truck be broken down. For now I decided to be relived and feel lucky that that guy (who was just dropping off his landscaping crew and trailer at the parking lot) was super nice and helpful and even offered me a ride to the next best mechanic shop and made sure that they'll squeeze me in that very day. I was hoping, praying that it wasn't anything serious and I could manage to get to Nimpo lake the day after. So I got my truck towed to the shop and sat down in the cafe next door - eating pancakes and drinking coffee against the shock and for the nerves. It felt like I was waiting forever.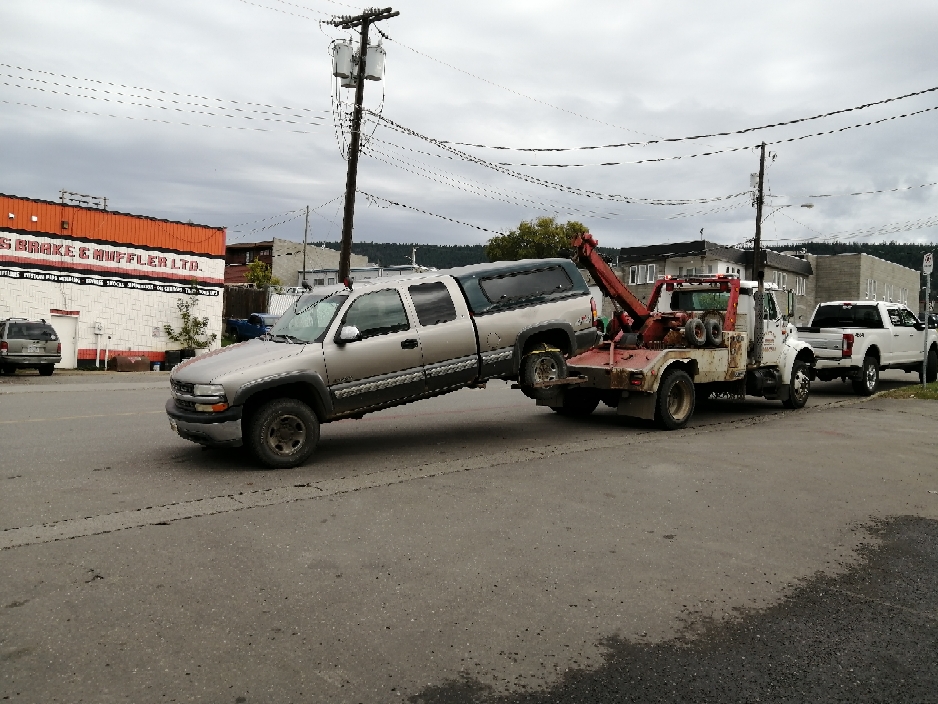 After a few hours I couldn't just sit around anymore so I went back to the shop and started organizing all my things for the trip right in their yard. In the afternoon they finally found the time to look at it. I was expecting the worst but after not even 10 minutes the mechanic came back out and told me he was done. 'How is that possible?' I thought. Well, simple problem with a great effect... I guess driving along all those gravel roads with nice wash-board-surface wasn't the best thing as the fuel line simply slipped of the fuel pump - it just needed to get reconnected (this time tight) and voila everything worked again! I was soo relived! My trip was save now, I could still make it Nimpo lake that day, camp somewhere close by and catch the plain the next morning. 
So I went on my way, the drive was beautiful! Getting closer and closer to the mountains, through beautiful farmland and hills, actually going through quite a few farms too, so I always had to keep my eyes open for random cows on the road.
I made it to my beautiful camp spot at Charlotte lake by 7 p.m. right at the shore, with the perfect view of the mountains I was planning to fly over the next morning. Nothing could go wrong anymore right?! - Wrong! After watching a beautiful sunrise the next morning and having a quick dip in the freezing lake I was just about to leave, still having a backup of half an hour. My truck never locks itself, never, expect now, with the keys inside of course. Shit! I was close to going crazy, or actually my mind was going crazy already. WTF, how many more things could possibly go wrong?! Argh! anyway, going crazy wouldn't help me at all, at least I still had my backup 30min so if I could figure out a way to break into my truck and unlock it somehow everything would still be good. I took a deep breath and did the first thing coming to my mind - asking the campers next door for help. Great idea! They had a clothhanger, and calmer mindset, so they tried around for a bit and not after long managed to hit the unlock button. How unlucky and lucky can one possibly be at the same time??? I'm definitely sticking to the lucky side! With a still hammering heart I drove out, still in time. I didn't manage to calm down again until I reached the float plane dock at Nimpo Lake. Just to get exited again about the upcoming flight and adventure. Sitting there at the dock, enjoying the grand view and sunshine, waiting for the plane I realized that I had really made it. I'm really heading out to Nuk Tessli, the real Canadian wilderness, volunteering at a hiking lodge with a bunch of apparently amazing people. Doron, who owns the place is a real mountaineer who has even climbed Mt. Everest, and his son Sela whom I've been corresponding with seems to be super nice too. Things couldn't have turned out any better! 
And there's plane came, a cessnar float plane, how great is that?! I always wanted to fly with one out into the wilderness but never thought that I would really do it. We got all our stuff in, buckled up and off we where. Sitting right behind the pilot shaking left and right we started floating faster and faster over the waves getting shaken through quite a bit before the wings cought air and we took off. Still bumping a bit left and right we gained altitude and the vastness of the wilderness below came into full view. Forrest, lakes, rivers and mountains as far as you could see. We had the perfect weather for the flight, no clouds at all to limit the view. We flew over Charlotte lake where I had just camped and came closer to the mountains I had admired when I was looking out over the lake earlier on. The pilot made its way over a ridge right between to mountain peaks, they were so close! If there would have been a bear at the slopes right next to us, we would have seen it, it was almost as if we could touch them. The flight was over way to fast, not even 20 min later, still being high up ( we never flew back down after we went over the ridge) Whitton lake came into view, and with it the lonely cabins of Nuk Tessli at its shore. Surrounded by protecting Forrest with the rugged alpine right above it lay my home for the next few weeks. And if you continued looking further over the lake the gigangtic peak and glaciers of Monarch Mountain rose right out of the water. It's a picture perfect setting.
The lodge is run by Doron and his sons, all of them from Israel and they always have some volunteers around to help. Next to me there was a couple from France and another german-austrian couple. The lodge itself consisted of 4 sleeping cabins and a common cabin with kitchen next to a wood heated hot tub under the open sky. Nested right at the lake shore, sheltered by the trees and surrounded only by mountains and wilderness the lodge is the perfect spot to start some wilderness hiking adventures into the alpine areas. 
Our duties varied quite a lot and ranged from cooking and cleaning to building boardwalks and storage shelters. But by far most time consuming was the kitchen... Luckily I made sure that they knew about my non existing cooking talent even before I got there so I never had the upper hand on any evening meal preparations as I'm quite confident that would have ended in a desaster... I mainly helped and did a desert or salad here and there... 
As the season (which wasn't buisy anyway) was slowly coming to an end there weren't many guest coming in anymore and week by week we became less people. First Amotz and Noa went, then followed Juliette and Silvan together with Sela, so only Theresa, Semi, Doron on me were left in the end to close down everything for winter. If you think about it, it really is kinda crazy, all the work for only 4 month a year, and for the following 8 month there is nobody around at all. Supposedly it is possible to get in in winter too, with snowmashines or a plane on skies but I think they said they only ever came once in winter. So as summer was slowly disappearing and the last guest were gone we started cleaning eventing up, blocking all the lower floor windows, draining and closing down the water system, emptying out the kitchen, winter storing all the boats and kanus and making everything snow and cold safe. It actually didn't take us as long as I was first expecting. The only thing we struggled with was eating all the leftover food. About 60 eggs, 4 heads of Brokkoli, tomatoes, a couple cauliflower, tons of frozen meat and so on. We could have spent the whole last week just sitting at the table and eating. Getting up in the morning I was still full of all the food from the day before...we tried our best but in the end still had to split and fly quite a bit of leftovers back out.
The time in Nuk Tessli had passed way to quick for my liking. Mind you, I wasn't there for as long after all, just about 3 or 4 weeks, but I wouldn't have minded staying for longer, I loved that place... But in order to make leaving easier at least it started raining on the day before our departure. When we boarded the beaver that was bringing us out, thick rain drops were still cluttering on the plains window. Just as we started catching air and lifting up some of the clouds moved a bit and uncovered the snow capped peaks of wilderness mountain and the surrounding. Winter was apparently not too far off after all...
(...the hikes will follow...)