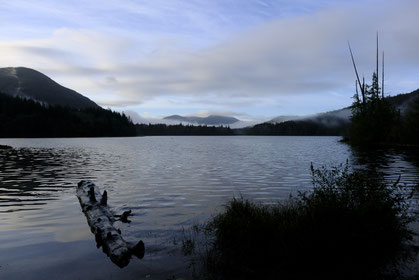 Even though the whole seaweed harvesting trip had felt more like a fun summer camp then work or volunteering all of us agreed that it was time for some more vacation and a nice camping trip in Bamfield. So here we were, Peter, Rachel, Laura, Lasse, Amir, Faline, Majid and me were left. We all squeezed into Falines car and Majid's and my trucks, as the road to Bamfield is nothing for the faint hearted or low clearance vehicles. I've heard that the road was supposed to be bad before, but to be honest, I was still surprised. But not only the road was bad, the weather was once again not the best either. Passing Cameron lake on the way from Nanaimo to Port Alberni we had to be careful not to get hit by any falling branches and over the lake lingered a thick layer of fog, evaporated from the surface itself. The waves could have easily come from an ocean too. Additionally to the bad weather conditions the road from Port Alberni to Bamfield is a gravel road (100km) and if we would have tried to count potholes, I think a million would not have been enough... In addition to the wind it started pouring down rain as we were about half way down the road. I was trying to avoid potholes - close to impossible (and that with my great deep love for potholes...) Well, it was still fun, as long as I didn't dare drive faster then 30km/h.
I don't quite know how long it took us in the end to reach our beautiful camp-spot at Frederick lake but by the time we got there the rain luckily stopped and everybody could set up camp without getting soaked. 
As it apparently always is with bigger groups, everything always takes forever and you don't really get anything done so we pretty much slept in the first morning. First stop on our little exploration was the trailhead of the West Coast trail at Pachena Bay in the southern part of the Pacific Rim National Park. The dense green Rainforest so close to the Ocean reminded me quite a bit of New Zealand and the Heaphy Trail I did on the South Island,  it was beautiful. And Rachel managed to convince me that the best cure to being cold is a nice quick swim in cold water -  so both of us set out for a quick, super refreshing dip into the pacific ocean. (Writing about it now I can't really believe it, October in Canada and i wen't for a swim in the ocean to get warm?!) It was great! So far there has never been a swim that I regret. 
Next to the beach the bordering Rainforest was covered in the thickest layer of Moss I have seen so far. Everything was shining in a vibrant green transforming the place into into a mystical fairy tail wonderland.
After everybody had enough of the stunning untouched nature we continued to the little town of Bamfield, Majids second home. Not as if there is much of a town to be found... A few houses, a little harbor and a convenience store, that's all there is and all that's needed to make it a wonderful little place in the wild. We spend quite some time at the harbor, just sitting around, enjoying the sunshine and chatting before we wen't back to our camping spot at Frederick lake in the evening.
Instead of just looking at the trailhead like the day before we actually went on a little hike to secret beach the day after. Even though Majid had warned us that we'll get wet feet I got a little bit annoyed by trying to find my way around all the mud puddles in the end. I guess after all im still more a mountain then a rain forrest person... Hanging around at the beach, having a little nap some of us got so cold that we spontaneously tried the penguin (or sea lion) method of cuddling up to stay warm. It was surprisingly cosy and comfortable so we ended up staying for quite a while before we headed back for our last night in beautiful Bamfield. 
The weather on the way out was just as bad as on our way in, so I was once again quite glad about driving a high clearance 4x4 Truck that didn't care too much about mud and potholes... 
That very afternoon we said goodbye to Faline and after spending some time in Parksville decided to go camping once again all together on a close by secretly hidden forrest service road. It was a great last night sitting around the fire with everybody, reflecting on all the great and not so great moments we've spend together during the last few weeks. Majid and Amir were going to leave in a different direction than the rest of us the following morning and with Majid leaving that meant it was our very last day of an adventures time with CPS.