Williams lake, a random parking lot - where to go now?! That was a seriously good question. The longer I thought about it, the more options came into my mind, which didn't help at all... So instead of thinking I decided to write to Peter (whom I knew from my last visit in Barriere). I knew he went Seaweed harvesting on Vancouver Island and even though I got that same invitation I hadn't considered it so far. At the same time I wrote to Majid from Canadian Pacifico Seaweeds (CPS) and made up my mind that if any of them responds within 1min and said they'd still need people I'd turn south to Vancouver Island instead of anywhere north. As it happens, they did respond and yes, they hadn't even started harvesting so wouldn't mind me joining at all... Lucky me! Another nice benefit, Angela just wrote me 5 min earlier that a parcel had arrived for me and when I'd come around to pick it up - well how about that very same afternoon?! So I spent the night in Barriere and said hi to Angela, Dan and all of the sheep and lambs that were still around. 
The very next afternoon I rolled without any delay or waiting onto the Ferry from Vancouver to Nanaimo at the Island. Unfortunately the weather wasn't too great so I didn't see anything at the cruise over. Peter had offered me to spend the night in the driveway of his current Host farm in Coombs so at least I haven't had to search for a camping spot. 
The next day we wanted to meet up with the rest of the CPS crew, where and when wasn't quite defined by the morning but as I didn't want to hang around just to wait for a proper respond I drove off towards Ucuelet. I simply hoped that the vague idea of camping at a spot along the way would still be plan for everybody. After stopping at little Qualicum falls and a fish ladder with lots of Salmon I went to the suggested camping spot by the river, knowing that at least Peter would show up there later in the afternoon. As it happend he was the only one that was about to show up after all. All the others had made a new plan of meeting in Ucuelet at the house, but as cell service is scarce in Canada I didn't get that message. Well, what ever, Peter found it out in the end and we met the whole crew of 11 at our house later that evening. 
The following three weeks blurred a bit together I have to admit (I guess I should have better kept track of things...).
After  trying to get to know each other a little better that evening we launched the boat the next morning and drove out for a little survey, only to realize that one of the two engines was not working properly. Our free time in the afternoon we used to go out and explore the nearby beaches of Florencia and Halfmoon Bay. 
We woke up early the next day and drove out harvesting for the first time. Unfortunately I had to discover quite soon that harvesting, engine fumes and waves were not the best combination of things and that I was very well able of getting sea sick. But as it felt like a really bad hangover at least I knew what I was dealing with... 
As we wanted to set out again the following morning we discovered that both engines weren't working properly. After sitting for a few hours sunbathing at the dock Majid decided to call it a day as he'd be bringing the boat into a shop to get it fixed. We ended up using the beautiful morning light to go on a little hike to the local lighthouse. From there we drove straight to long beach, which is part of the Pacific Rim National Park and famous for it's decent surfing conditions. We spent the rest of the day laying around, playing cards and having a little 'house party' in the evening. As the weather wasn't the best the following day and the boat wasn't fixed yet we only went out for a short walk down the misty beach of Halfmoon Bay. After that we had to clean out the AirBnB and went camping for a night at Kennedy lake, surrounded by beautiful rainforest covered mountains. We also explored nearby Tofino, one of the more famous tourist town on Vancouver Island, went for Tacos at Tacofino and swimming or Tonquin Beach. 
Finally also the boat was ready for the water again, and we moved into our new AirBnB right by the harbor. So the next morning everybody was excited to go out on the water again and finally start harvesting once more. As the weather wasn't any good the next morning and in order to check the boats functionality we only went for another survey further up the coast though. Now, finally we could start harvesting once again. For the first time everything went kind of smooth the following two days and we managed to harvest quite a bit of kelp. After every single bag of seaweed was stored in the truck Majid, Lasse and me went back out with the boat to catch 'a quick fish'. As Majid was busy fishing the waves started pushing us further and further towards the nearby rocks, so Lasse jumped in the cabin and took over the steering. I for my part was busy watching the nearby sealions mocking us. After not too long Majid actually managed to catch a fish and as we all started getting cold we headed back towards the harbor.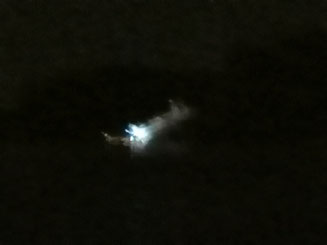 Lasse was still steering the boat as Majid and I were talking in the back. All of a sudden the boat came to a rather rapid stop. No way of moving it anywhere. No forth, no back, nowhere. I looked over the railing and there we were, beached on a big as rock. That was when things really started getting hectic. The boys tried everything, jumping off the boat, pushing from every possible side and angle, it just wouldn't want to move and additionally the tide started going out too. So with every passing minute we got more and more stuck. But we wouldn't be in Canada if there weren't people around willing to help. So they tried pulling us off the rock but couldn't accomplish any more than pulling us into a super awkward angle. Holding tight onto the railing I just hoped that they wouldn't continue and flip us upside down with the whole boat. By that point all I wanted was to get off the boat. As things didn't improve finally the coast guard came and 'rescued' us off the rock, driving thief own boat into the rocks a couple of times too. By now the tide was down so much that the whole boat was out of the water. What felt like an awkward angle on the boat looked even worse from afar. The front sticked up into the air like a signpost. If I wouldn't have seen and experienced it myself in wouldn't have thought it possible. Anyway, we had to leave the boat, hoping that it wouldn't sink when the tide came back in and wait for the next afternoon to try again to pull it off the rock. In the end we took the kayaks out again in the middle of the night to tie the front of the boat to a nearby post, hoping that that way we could prevent the boat from flipping. Then we've had to wait for the next high high-tide. As we we couldn't do anything in the meantime we went on a little walk the next morning along the coastline to an ancient cedars Forrest. The tree trunks were so massive that 4 of us managed to climb in at the same time. By the time we came back we heard the good news that they had managed to get the boat  off the rock and the boat itself didn't seem to have any damage, just the brand new engine got soaked which isn't too good either... 
Giving it a quick fix that very afternoon we went straight back out again the following morning, trying to harvest as much as we could to make up for the lost days. But as Majid didn't fully trust the engine anymore we only went out for that one last harvest. The day after we took off by foot, doing a research harvest of as many different species as we could find. I quite enjoyed it as it was my first day of harvesting without getting seasick and the little intertidal pools were full of natural wonders. Next to tons of different seaweeds we found starfish, sponges and  anemones in the most vibrant shining colours. It once again felt like watching a real live BBC documentary. I couldn't have imagined a nicer last day of harvesting even though by then I didn't know that it would be the last day... 
Additionally to all the trouble we've had with the boat from now on also the weather turned bad on us. It was pouring down and gusting wind outside. After we went out for a coffee the next morning I was so soaked that the prospect of getting wet surfing didn't seem to bad anymore. So finally I went out surfing that last afternoon in Ucuelet/Tofino. We rented gear at the neighboring shop and went to long beach once more. The waves weren't great at all and the current terrible, but we've had lots of fun and that's all that matters in the end I guess. A great last day on the west cost.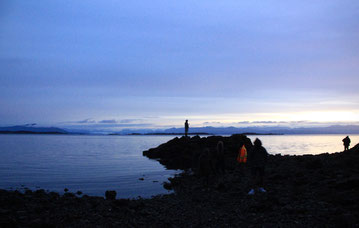 Our next stop was Nanaimo, on the Islands east coast where we were planning on harvesting a different Kelp species from shore. Instead of renting an AirBnB we all stayed in a hostel this time. Highly motivated as always we got up super early and left the hostel still in pitch dark. As we reached our first harvesting spot north of town the sun slowly started to rise and we had just enough light to see that there was no seaweed worth harvesting to be seen anywhere around. Allright, so we all got back into the cars and went to o spot number two, south of town. Or let's better clarify, we went on search for spot number two... We ended up looking up places on Google maps that might looked promising and went from bay to bay hoping to find the 'perfect specimen'. Long story short, we had no luck but found tons of sealettuce. 
And that was it, the final day of harvesting or rather attempting to harvest. Even though the trip was long we actually didn't spent much time harvesting at all, not that I want to complain, I just felt a little sorry for Majid.  At least as it was Thanksgiving weekend we all had one last big feast together that evening as apparently the whole hostel decided that Covid sucks we're on an island anyway and we may as well all have a nice turkey dinner together. 
Even though the decision was made that harvesting was over most of us were still not quite ready to part ways. As we still had another night booked in Nanaimo anyway we used the beautiful sunny next day to explore nearby Newcastle Island before saying goodbye to Rea in the evening and getting ready to head back West to Bamfield the next morning.