Majid and Amir had left, Rachel, Peter, Lasse, Laura and me were still in the same boat, heading the same direction - Strathacona Provincial Park. From what I had heard and researched it was one of the best hiking spots to be found anywhere on the island, and with Covid and the season being pretty much over anyway I was expecting some wild, untouched trails that waited to get explored.
Leaving our Camping spot near Parksville our first Destination lead us to Mount Washington though. It's the bigger of the two Ski resorts found at the Island and as snow hadn't reached the valleys yet we were hoping to go on a couple short hikes over there. Getting out of the warm cars at the bottom of the ski slopes we got surprised by fairly chilly temperatures and a stiff breeze though. Changing into the most easily accessible long cloth we could find we set out to climb the top of Mt Washington, a fairly easy but steep hike. On top we got greeted by a solid layer of snow. It felt like I had just left the cold snowy Canadian winter behind, but here it was once again, sooner then anticipated.
Back at the Truck, as the day was still fairly young we set out for another trail; winding though a little marsh to Helen Mackenzie Lake. As it started raining along the way we all got soaked and we're more than happy that we haven't had to camp that very night. Thankfully Lasse knew someone in nearby Comox where he had been couchsurfing before and all of us were able to stay the night at his place. After camping since we had left Nanaimo it felt good to have a hot shower again!
Leaving luxury behind we left for Strathacona the following morning. Vancouver Island really has a great diversity between ocean, mountains and lakes. Where ever you go, there is something to explore - Stathacona is a whole new level for Island standards though. I've got to be honest, I've missed the mountains... And even though the clouds covered most of them on our drive in I felt relived to be surrounded by them once again. 
On our way to find a nice camping spot we stopped at a few short hikes along the highway. First of them was Lupin Falls. A stunning little walk through an impressive tall, old cedar forrest. The sheer size of the trees was stunning. German forests are nothing in comparison to THAT. 
The second little hike let us to Carst Creek disappearing into the mountain. At last that day (as we were there anyway) we explored beautiful lower Myra Falls before we set up our basecamp at Ralph River.
Arnica lake
Our first day hike in Strathacona led us up to Arnica Lake. Looking at the trail I already knew that it was going to be a steep, 'forresty' climb up. Distance wise nothing to bad, but up, up, up, back and forth and back and forth along the many switchbacks. Luckily Rachel set a good pace for us and even though the walk up dragged itself a bit, it wasn't too strenuous or boring. Even though the trail didn't lead us all the way above tree line we had a great view of Arnica lake on top and were able to have a first look at our destination for the next day: Mount Myra, which looked quite impressive from that side of the valley.
We tried to continue a little further up Phillips Ridge to get a few more views of our surroundings but turned around after not too long as the day was slowly coming to an end. Once again we had slept in in the morning. Especially with the temperatures dropping significantly getting out of the finally warm sleeping bags in the morning wasn't too tempting at all...
The way back down seemed to be at least twice as long as the way up, but luckily we had quite the little distraction about half way down. I think it was Laura going up front leading the pace and suddenly stopping as she saw a black bear not too far off the trail. 
And it was not only a black bear, as we all looked closer we saw two little cubs climbing a tree right next to her while the mom was happily eating all the berries she could find. It was quite the sight, I hadn't seen a mother bear with cubs before! Having the bear spray ready and keeping talking we slowly continued on our way, circling the three of them while following the switchbacks. Luckily there were enough berries around, so mother bear didn't mind our presence at all.
Mount Myra
Dayhike number two was supposed to lead us up Mount Myra, which we had seen the day before from Phillips Ridge already. In order to not be too disappointed in case we wouldn't make it all the way up the top we set to destinations along the way: first Tennet lake and a little further up a small alpine lake along the way. 
The first part of the trail lead fairly steep up through the forrest (this time without all the switchbacks...). Not only 1.5h it took us to reach Tennet lake, a nice looking water reservoir creating electricity for the nearby mine. (Did I mention that we had to cross that big mining site in order to get to all the trailheads? Quite interesting to be honest!). 
 From Tennet lake onwards our pace slowed down abruptly. After walking up an ATW road before, we now had to make our way on an unmarked and unmaintained route. Well, I guess I was used to it from my little Wilderness adventure, but I guess what made us slow down most where all the irresistible blueberries along the way... 
As we finally reached the little alpine lake dark clouds started to accumulate around the surrounding peaks. Rather being safe then sorry we decided not to attempt climbing all the way up to the peak, weather is just to unpredictable and none of us new what to expect of the rest of the climb. So we decided to rather have lunch, explore the area around the lake and turn back. During our little exploration tour it actually started snowing a bit. As Rachel had the habit of jumping into every kind of water that crossed her way, her and I went for another quick swim in another little lake along the way. As far as we know it was unnamed before, but from now on and probably only for us it's gonna be called 'skinny-lake'. What a great refreshing little swim! 
The views from the top of our little 'sub-peak' were spectacular. Strathacona definitely keeps up to what is promised! Secretly hidden lakes all over the place surrounded by lush green forrest and brilliant blue glaciers. I don't quite know why but it reminded me of a weird mix between how I imagine the mountains of Vietnam and the Alpine; stunning.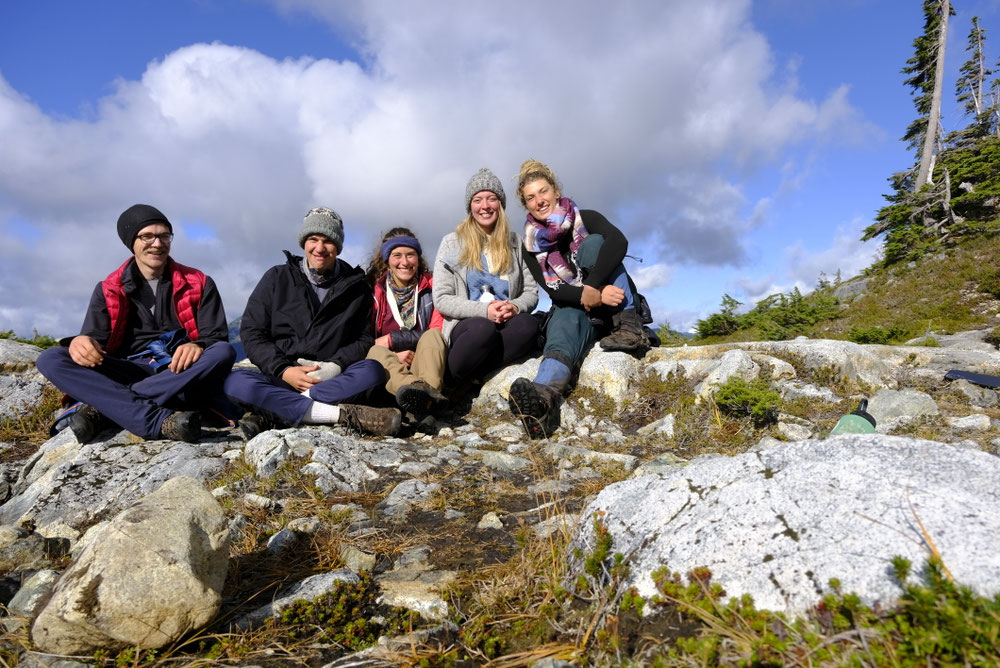 As we went back down the sky started to clear again and we once again had beautiful views of the peak teasing us und questioning our call to turn around. But we had a gorgeous day anyway!
Bedwell & cream lake
Still not tired of hiking we took off again the third day. For the first time we managed to leave the campsite fairly early and set out for the trailhead. Instead of driving through the mine we took the backroad to the Bedwell lake trailhead. Rachel's car we left at the other side of the trail, or at least at what we thought was the other side of the trail. This way we were hoping to walk the trail and then Rachel and I would take her car to get my truck from the other side. Unfortunately the road to the trailhead was defenitly not usable for any vehicle with low clearance or without 4x4. Even my heart rate went quite a bit up once again driving up there. At least the good adrenaline rush I always get when driving tricky backroads made me wake up entirely. 
So for the first time we started hiking at arround 9am, knowing that it's probably gonna be a long day. The first part of the trail lead us through dense forrest, once again in steep switchbacks up to a platau. Arriving at the top we got once again greeted by a Blackbear standing in the middle of the trail, helping him self to the feast of berries. This time it was a big and fat male one. We all stopped, gripped the bear spray tight and made loud conversation so he would hear us coming. Mildly impressed the bear started trotting along the trail and finally starting to climb the rocks to our right. 
Once we were sure that the trail was clear and he wasn't coming back we continued on our way and not after long reached Baby Bedwell lake, still hidden between within dense forrest. Climbing the little ridge that separates Baby Bedwell and Bedwell lake the majestic peaks of the Mt.Taylor and Big Interior Mountain came into view. 
From here the well marked and maintained hiking trail transformed quickly into an unmarked route leading as along Big Interior Mountain towards Cream lake. Climbing up and down boulders, along creeks and through beautiful meadows we soon left the Forrest behind and reached Little Jim Lake. From here the route continued up a bouldery saddle and the views got even more stunning. I expected Strathacona to be nice, but the beauty of that hike surprised all of us. From day to day and minute to minute Strathacona became more and more pretty. And even though it was a beautiful day, we didn't see a single other person all day. Taking a photo brake ever few steps we slowed down quite a bit until everybody's stomach was longing for a well deserved lunch break. With every small puddle we passed the question came up whether that would finally be cream lake - no. But once it came into view there was no question about it's identity anymore. A view just as pretty, if not even more then all the famous 'instagram-spots' from the main land. Here we could also finally have our lunch break...
From here the plan was to follow a trail along the lake shore to the opposite site, from where another trail was supposed to take us down to the valley and along the river all the way to Rachels car. The maps we had looked promising enough... But as we tried to get around the lake and couldn't find a real trail or safe route an uneasy feeling started to take over my mind. Double checking every step I took along the steep slippery slope, not necessarily looking forward to go swimming in the ice cold water we slowly found a scramble/bush wrack to the other side. Taking a deep breath of relief we looked around, trying to finally find the proper trail. There where a few options that kind off looked like a possible route but nothing really eye catching. Double checking every map we had we decided to give it a go. It was 3pm already, our shortest way out and daylight doesn't last forever. There was no trail, not in the slightest and the terrain was way to steep, slippery and overgrown to bush wrack through. The group's attitude had changed too, the tension rose with every step. Worth the try or better turn around as long as it was still possible? It took a while to get everybody completely convinced that turning around and getting out the same way we came in was the only safe option we had. Even more nervous than before we once again climbed along the steep lakeshore, trying not to slip on the icy grass. It was 4:15 as we reached the other side of cream lake and we knew we had at least another 4 hours of hiking in front of us. But at least we had walked the path before, we knew it existed and it would bring us straight back to the truck. The most demanding part of the trail lay right before us, from cream lake back to Bedwell lake, and if we were quick enough we would be able to reach Bedwell lake before dark. Next to the light problem I was also worried about the quickly dropping temperatures that would lead to a nice layer of slippery frost all over the partially steep trail. Nothing I was too much looking forward too. At least we had all been prepared enough to take our headlamps along. So worked on lifting the spirits up once again and started walking back. The good thing was that we could once again enjoy the most beautiful part Strathacona, maybe even more beautiful now, with the slowly setting sun. Loosing the path only a few times we actually made it back all the way to Baby Bedwell lake in Daylight.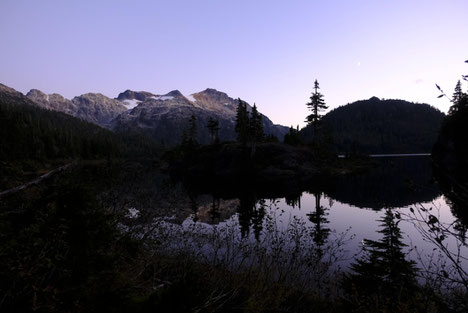 From here at least we had a proper trail again, that we couldn't even loose in the dark. Walking deeper and deeper back into the dense forrest we quickly lost the rest of the light and had to take out our headlamps to avoid stumbling over roots or stepping in deep muddy holes. By then everybody was in a good mood again, the tricky part was behind us, now we only had to get through the physically tough part. With every step I felt the blisters on my feet getting worse and I was not the only one. Additionally the knees started to ache and the time simply didn't wanted to pass anymore. For a while listening and feeling the dark forrest around us distracted us enough to forget the pain. We walked for 2 full hours in complete darkness. I think the only time I have ever been more relived to see the days destination of a hike was on my Slovenian Easter hike. 
But at least for me the adventure wasn't quite over yet, I still had to drive us all safe back out. My truck helped me a lot (did I ever mention how much I love my truck?!), and as we reached the main road I could finally calm down again - we had made it; once again; what an adventure!