Leaving Rachel and Peter behind as we left Strathacona the adventure didn't end, it just started.
Finally, after so many times of nearly going but not going in the end I was supposed to go up north. Better late then never was the attitude. And for once I wasn't planning on attempting it all by myself but in the company of Laura and Lasse.
We had a very loose plan of where we wanted to go and what we wanted to do. But at least we had a good starting point - the famous inside passage, a ferry route from Port Hardy (at the north tip of Vancouver Island) to Prince Rupert, 22h further North. I had thought about doing that ferry ride for a few times already, but now as the summer season was over and the prices had dropped I could finally afford it. The only downside to the off-season was the lack of light in the evening and morning as well as the very likely possibly of bad weather.
To make sure that we wouldn't miss the departure we arrived a day in advance at Port Hardy. A tiny little town, probably full of tourists during regular summer days but more of a ghost town as we arrived. In order to find the hostel we just had to drive down the 400 my long main road that at the same time was pretty much the only road to be found anyway. At the hostel door we only found a little note with a phone number Laura tried to call. 'Sorry,we are closed today.' was the answers we got. Closed today?! But open tomorrow or what?! Thanks for nothing, how is that supposed to work?
Well,whatever... We learned a good lesson that afternoon: hostels in Canada are apparently closed as soon as summer is over, but motels are open year round and if you can share the cost of a room with three people it actually turns out even cheaper than the bunk bed in a shared hostel room. So we spent our first night in a motel room of the Pioneer Inn that could have very well been a movie set. At least I felt like I'm in an American road trip movie - two story building, outside hallway with railing, trucks parked right in front of the rooms... Not too bad I've got to admit.
After a thick layer of fog lifted the next morning we went back to town to enjoy the beautiful autumn sun. After having another look around trying to find something we hadn't seen yet and browsing through any thrift store we could find we left in the direction of the ferry terminal. 22h on a boat seemed to be quite a long time so we set out for one last short hike on the island in order to stretch our legs. The destination was an old plain wrack from 1945 that crashed because they haven't had enough fuel (how unfortunate...). I've got to be honest, I wasn't too motivated leaving for that walk and if I would have known where we were headed I guess I wouldn't have joined, but in the end I was quite glad that Laura and Lasse made me get my lazy bud up.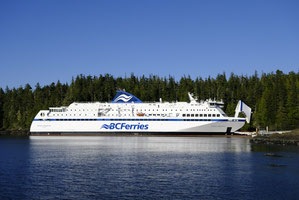 As the sun started to set and 8pm came closer we lined up with all the other cars to board the ferry. Even though the car deck seemed quite full as we left all the public areas stayed fairly empty. For one of the first times we had to mandatory wear masks, quite inconvenient those things... In order to shorten the 'mask-wear-time' we simply dressed up as warm as we could and sat outside drinking some wine to keep us warm from outside and inside. The views out at the rear of the ferry, as limited as they were, were better than form the inside anyway... Soon enough the lights of Port Hardy disappeared in the distance and we we surrounded by complete darkness. Once my eyes had adjusted a little better I could start to see the mountain tops around us. It really felt wild, no sign of civilization to be seen anywhere around.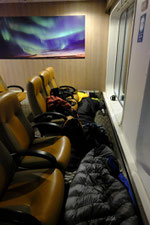 Even though we dressed as warm as we could it wasn't really cozy outside as a cold breeze was howling. So we made our way inside and found a nice spot close to the windows where we spread our self out and tried to get at least a few hours of sleep.
Unfortunately both of our stops along the way, in Bella Bella and Klemptu happened in the dark so there was not much to see at all. As I woke up the next morning a dim grey light started to make its way through the windows. At least it wasn't raining... The clouds didn't leave for the rest of the ride but we could still see some of the mountains around us. Slowly the ferry made it's way through all the islands off the BC coast. In parts it felt like we were on a river cruise as the channels narrowed until you could almost reach the cliffs on either side of the boat. The highlight of the ferry ride were the whales that started to accompany us along the way. First I spotted a few fountains coming out of the water around us. Looking closer you could see their backs and every now and then one of them decided to go for a dive and stretched it's tail into the air. To my biggest joy some of them even jumped.

In the afternoon we arrived in rainy Prince Rupert and went from Hotel to Hotel trying to find a room as apparently everything was fully booked. Camping wasn't really an option either as the rain got stronger and stronger. Luckily we found something and could leave the following morning rested.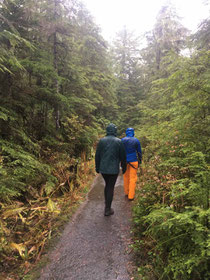 The weather hadn't changed at all and it took quite some mental effort to go out on a walk to some nearby rapids. Not even five minutes into the walk we were soaked through all layers. The rapids were nowhere to be seen as the river was so high, but it felt good to walk again. So we didn't waste much time and headed on to Terrace and a camping spot at Pine Lakes Provincial Park. Turning off the Highway onto the gravel road the rain started to turn into something snowish and covered the road. We drove and drove and drove and I was close to loosing faith that we were still on the right path when we saw a little sign telling us to keep going for another 3 km. The camp spot turned out to be beautiful; right at the shore of the little lake surrounded by forest everywhere. The only downfall where big powerlines next to us. And I guess if we wouldn't have had as many clouds around we would have had a beautiful view of the high mountains in the distance as well. But well, it rained - a lot. All of us were more than glad we had invested in a tarp earlier on that gave us at least a bit shelter from the rain.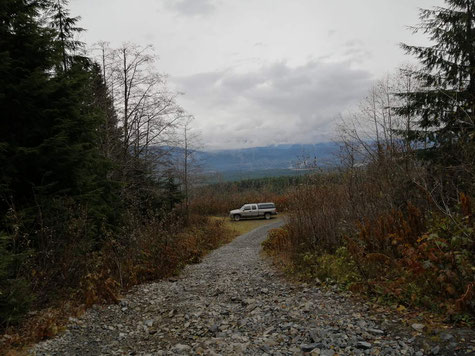 By the morning the thin layer of snow that surrounded us in the evening had disappeared together with the rain. A great day for another little hike! Our destination was the Sleeping Beauty trail. The trail had was accessible over an 11km long logging road. Well, "road" once again, one would think I would have learned by now, but no. Once again my Adrenalin level rose to the point where I got nervous that I only wanted to turn back and get the hell out of there; just one more hill, the next possible turn around would have been mine. But we were far enough anyway that we decided to just leave the truck and walk the rest, there would have been no other way anyhow, the road turned into an ATV trail more than any road...
Making our way up we first followed the remains of the road and 4x4 trail before heading steep into the forest. The higher we got the more snow we discovered and by the time the trees got less we were knee deep into the snow. Luckily some of the clouds lifted an inch and gave way to the view of the surrounding mountains.
The trail in front of us was gone and as we didn't exactly know which way to turn we decided to turn  back around. Anyway, there was no way I wanted to drive that road back in the dark! My nervousness didn't disappear until we were back at the intersection to our camp spot.
 Relived to have made it back safely and having had a great hike we started to pack our things and headed into the town of Terrace. After just one night of camping in the cold the general mood was rather leaning towards sleeping in a warm house that night. Lasse had organized us a couch-surfing spot with Natalia in a Tiny house village close to town. Accordingly cosy was the sleeping situation - definitely not cold though...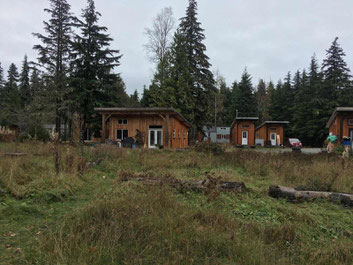 As Natalia was super nice and offered to show us around Terrace the next day we decided to stay two nights. We weren't in a hurry anyway. So we started the morning slow, with a great breakfast and a walk down to the river and around the tiny house village before heading into town. Terrace seemed to be quite a nice, young place with lots of wild mountains and outdoor activities around. I'd have loved to see the view of the high, snow covered peaks all over the place that Natalia was talking about but the clouds just didn't want to leave.
Another great advantage of couch surfing (next to the nice and warm bed) is the possibility of gaining local knowledge. In this particular situation it was the recommendation to go to the Nisga'a Memorial Lava Bed Provincial Park, north of Terrace. A provincial park I hadn't heard about so far and I hadn't seen in any of our travel guides. I've got to admit though, that I might have just red over it as I wasn't able to read it's name... Anyway, it was well worth the trip! The clouds were still lingering around the valley just now and then briefly lifting from the mountain peaks. It created an even more mystical atmosphere walking on the vast, rocky lava beds. The lava beds here were quite different from the ones I knew from New Zealand, way more mossy and flaked by the still tree covered mountains. We spent the morning stopping at every single little hike we could find and discovered some of the nearby waterfalls. The vegetation here was stunning! Being surrounded by high, alpine mountains and still finding vegetation worth a rainforest made me feel like I was in two places at the same time. Every inch was covered in all different kinds of moss and lichen, shining in a vibrant green out of the misty grey fog that still lingered around.
 As it didn't take us too long to explore the obvious things without going on a full day hike we took the afternoon for driving a bit further along our way. We passed Kitiwanga and the Junction 37 as we wanted to make another detour to Smithers before heading up North on the Stewart-Cassiar-Highway. The rain from the previous days once again turned into snow and most of our researched camp-spots turned out closed or not accessible anymore. Finally we found Ross Lake as the snow got heavier and heavier around us.
The spot seemed nice and as it started getting dark already we decided to stay an call it a day. While the other two set up their tent among the trees I collected some firewood, hoping that one of us would have magic hands and be able to light a fire. Before long each of us was soaked form the heavy, wet snowflakes that were constantly falling. Finally Lasse managed to start a fire to spend us at least a little bit of warmth. But as we figguered out in Strathacona already, a fire isn't only necessary to spend heat in cold weather, but also essential if you want to have warm food. Cheep gas cookers, as great as they are in summer, won't work properly anymore if the gas bottles get colder than 0 degrees. So our first evening snow camping turned out super wet, but somehow exiting, with hot pasta and mashed potatoes and lots of tears due to all the smoke rising from the wet logs. I guess we all would have had a warmer night if we'd simply had a granola bar and went straight to bed, but where's the fun in that?!
I woke up the next morning exhausted. Not only was it fairly cold over night, but additionally some kind of animal decided to have a little dance party on my truck roof from midnight to three - I hope at least that thing had fun. All the suffering was forgotten as i managed to lift my back window and was greeted by a beautiful white layer of solid snow and clear blue sky. It end of October and I found myself in a winter wonderland.
The sun came out more and more as we drove to Smithers and everything around us started glistening. After quite a few days of solid clouds and rain it was a welcome change and lifted the spirits. Strolling downtown Smithers, Laura and Lasse looking for water proof winter boots, I enjoyed the sun and nice, somehow European atmosphere around me. After everybody was satisfied with their dose of sun, boots and coffee we turned around and headed back to Kitiwanga and our junction up North.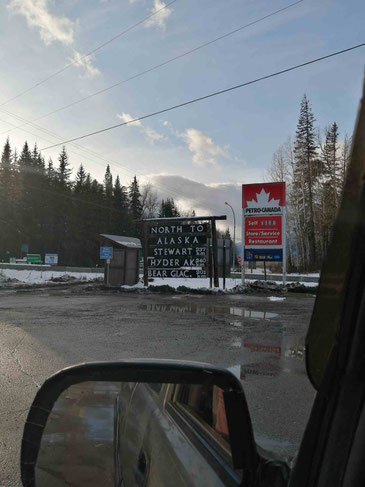 After a short stop in Hazelton, enjoying the "magnificent' (that's the new word!) view of the nearby peaks in the three sister provincial park we ended up back at Kitiwanga. Only a little sign next to the fuel station indicated that this was the beginning of apparently the end of the world or for us of quite a big journey...